About the new Watwr business
How is the business of plastic water bottles?

 Does it bring constant and increasing profit?
How about you make a mist with world famous spring water?
We produce water mists with world famous spring water manufacturers in the world!
The reasons why :
* For all eternity,  we have to keep moisturizing our skin.
* This water mist isn't being sold yet in the world!
* There are no similar products in the market and exclusive sale can be done as we are using a           special technique.
* This water mist can NOT be produced by any other company because we acquired a patent in             Japan. Only we, Protec, can produce it!
* The profit rate is approximately 100 times more than plastic bottled water.
* You can absorb varied world famous spring water in the world inside and outside the body,
by drinking or spraying the mist.
* This mist will be a long lasting commodity to secure sufficient sales profit.
* The average price for present world famous spring water from around the world  are:
1000 ml - 150 yen
  100 ml  - 15  yen
     1 ml  - 0.15 yen
  The drinking water profit is very small from the sales price above 0.15 yen per 1ml.
   However, when water mist is commercialized from the same water:
80 ml - 1300 yen
     1 ml  - 16 yen
      It'll be approximately 100 times more than a plastic bottled water.
     It'll be 16,000 yen If it converts into 1000 ml.
This water mist business is the new epochal and remarkable business yet to exist.
Starting from the water mist with world famous spring water, will you join this skin care business with us ?    
Working on taking surface tension out of water for manufacturing      hyper fine mist.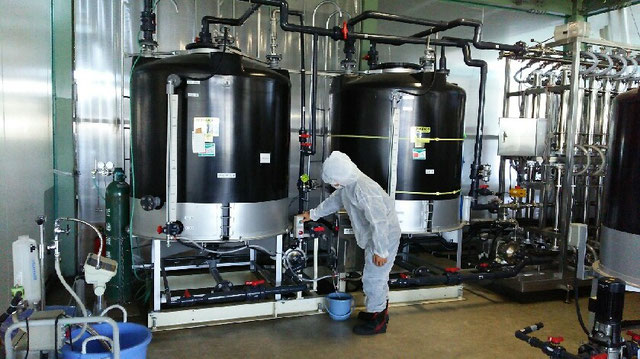 Please confirm the effectiveness of  hyper fine mist with the movie.
In case of existing product, the sprayed water flows out of  skin in about 4 seconds.
However, in case of Wailani mist, it stays on the skin for 10 seconds ( more than twice)
This is because of very low water tension remade by the special filter. By making this kind
of water treated with the special filter, its contact angle is low and permeates to skin easy.
So, you can spray even  over your foundation which you can never do with regular mist.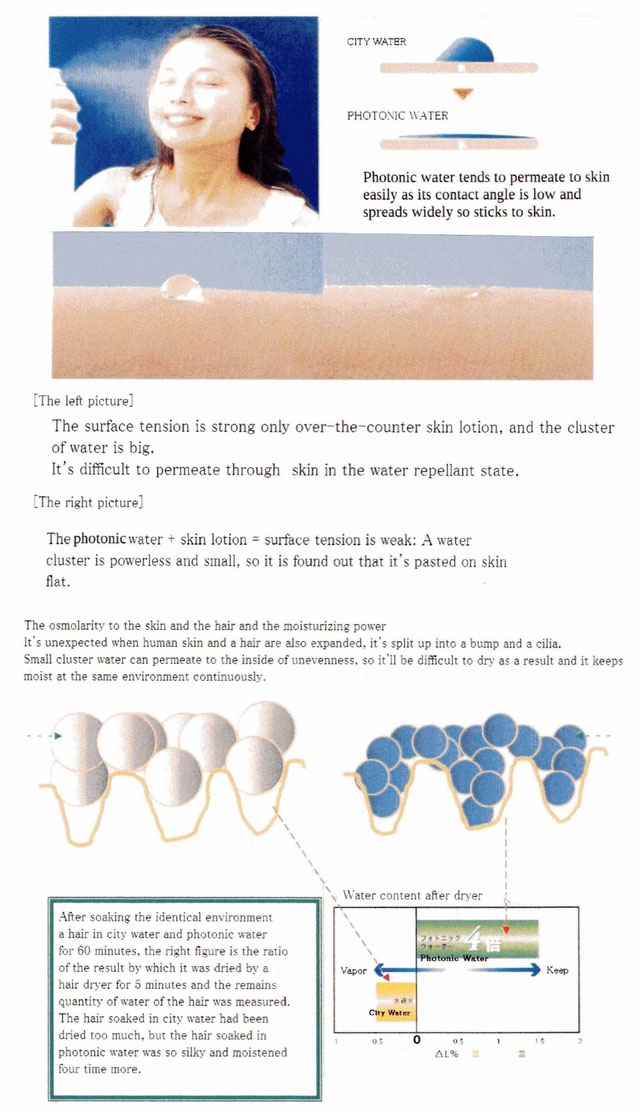 Protec Skin Care Series
< 1 > WATER MIST 

Features - 1
The mist is made with water treated by a special filtration system which is able to reduce "surface tension" from water. This special filtration system acquired a patent in Japan. The innovation is the one of a kind, we called it "low ST water". If non-treated water is applied over the face, it will not be absorbed into the skin!
Benefit of using the reduced ST water in our skin care products.
Our low ST water does not stay at the surface of the skin and goes into the depths of the pores.  The water weakens bacteria and the various germs in the pores which conditions and naturally aids in the prevention of skin troubles. 
Our reduced ST water prevents dryness of the skin! 
Our water mist prevents wrinkles, blotches/spots and freckles. 
Keeping your skin looking youthful and hydrated, because every woman's natural enemy is wrinkles.
Our reduced ST water helps in the prevention of sun burns. 
If you have moist skin, it takes longer to get sun burnt compared with dry skin.
Our reduced ST water goes into the depths of "the cuticle" of the hair. 
The water will keep hair moisturized for a longer time. 
Features - 2 
This water mist does not contain any preservatives, alcohol, chemicals and additives, which makes our product very safe and reliable!  Anybody can use it, even people with sensitive skin.  The container is a sterile aerosol type which does not allow air to enter into the container from outside, the water quality will remain the same as your first use.
Features - 3 
With our aerosol product, which utilizes a super minute nozzle for our reduced surface tension water, the absorption rate differs dramatically compared to other similar products on the market. This mist is so fine that you can use it before and after applying make-up. 
Water Mist Sales Items  

1. WAILANI MIST  (80g, 1,480yen) 
WAI (WAI) means "water" in Hawaiian language.
LANI (RANI) means "Heaven" in Hawaiian language.
WAILANI means "Water from Heaven".  As its name, the water derives from rains at volcanic top which is more than 4000 meters high on the island of Hawaii. Rain that falls onto the volcano's summit will permeate through the tiny holes in the lava (cooled form of surface magma) which is a building block of the earth. The ground water contains mineral within lava.
Beautiful "Mist of natural water" is gentle for skin.
It is safe for use on even the most sensitive of skins.
Preservative and alcohol additive free.
Fragrance-free, color free, and a batch test has been passed.
2.  HAWAI- ONSEN MIST (Tottori prefecture in Japan).  (80g, 1,200yen)
A source in Hawai-onsen includes a lot of clear and beautiful skin ingredients well balanced among many Japanese hot springs. The "MIST "of natural hot spring water made with HAWAI-ONSEN.
*Hot-spring quality: Weak alkaline.
        Sulfuric acid salt spring, hydrogen carbonate ion silica (METAKEI acid), sodium ion, chlorine ion, calcium ion and some radon are also included.
*Sulfuric acid ion 
A naturally occurring ion contained in the hot springs that are said to aid in the beautification of skin.
The elasticity of the skin and tension are raised.
The elasticity of the skin is strengthened and preventing wrinkles.
*Hydrogen carbonate ion
This makes the skin soft and takes extra sebum and dirt away.
You will have very smooth skin.
*Silica 
      Natural moisturizing formula. Metabolism of skin is promoted, and it 
will smooth your skin. The action which arranges "SERAMIDO" in a surface can be expected. Regeneration of the collagen is supported, leaving skin fresh. Skin will be rejuvenated vividly.
*Sodium ion and Chlorine ion

       Natural moisturizing formula.
       Clean skin and a germicidal action can be expected.
*Calcium ion

       Promote formation of the stratum corneum which makes skin smooth.
You can expect mysterious effects which isn't revealed by science from natural hot spring ingredients. 
Preservative and alcohol additive-free
Fragrance-free, coloring free and a batch test has done already.
Protec water mists is currently under research and development.
A.  Sedona Artesian Spring Water. 
   "SEDONA" is well known as one of three major power spots (the spiritual place has mysterious energy) in the world located in Arizona, U.S. This small town "SEDONA" welcomes endless amounts of people that need healing from all over the world. Amazing energy covers the whole town.
B.  Alaska glacial water.
C.  Fijian water.
D.  Norwegian glacial water.
Currently under quality testing for the previously mentioned 4 sample products (A to D).
In the future, we plan on making many different kinds of mists with waters from around the world that has special characteristics and values.
All our water mists are absolutely impossible to produce by any other companies but Protec LLC, Ltd.
< 2 > Protec is currently under developing Skin and Hair Care Series.
All our products will be made with the same low ST water as the mist above. 
1. All in one gel. 
This multifunction gel works as a lotion, a cream, a skin essence, make-up base with effects of anti-aging and improving wrinkles. This gel contains natural beauty moisturizing ingredients. 
The gel will contain 3 different Hyaluronic acids and 5 different collagens. 
Small molecular ingredients reaches into the depths of the skin. 
Large molecular ingredients make the skin beautiful from the surface. 
2. Soap based "Creamy Face Wash Soap". 
3. Shampoo and Conditioner. 

These are plans for future. 
Food Division
RICHARD ALOHA SAUCE
Now going out to the world market!
Tasty and Sweet! Vegetable and Garlic All in One Sauce
Richard's Aloha Sauce is an original, all in one sauce recipe made with passion. The recipe of the all in one sauce was inherited from Richard, and now is available in Japan! 
 20 ingredients are used to make Richard's Aloha sauce, which includes carefully selected vegetables, fruits and spices, and more. Our secret ingredient, Kona coffee (extra fancy of the first-class grade) is added as well. The Aloha Sauce makes a uniquely delicious taste, with every bite you will experience a taste of Hawaii.
Richard's sauce is great for barbeques, you can use this sauce with cooked vegetables, simmered dishes (Nikujyaga, curry and demi-glace sauce), Sautéed dishes (fried rice, the stir-fry and fried noodle). By heating this sauce, the tasty natural flavors of vegetable and fruit become more pronounced, adding intensity to each bite.
Marinate anything like beef, chicken and pork with this sauce by storing it in a Ziploc bag, and freezing it, which makes it easier to cook for an unexpected visit from guests.
By adding pineapples and/or mangos with the sauce, marinated meats will become increasingly tender. 
Ingredients 
Onion, apple, la France pear, garlic, pineapple, mango, lemon, ginger, sugar, soy sauce, the fermentation seasoning, sesame oil, starch syrup, salt, fermented sweet rice cooking wine, sesame seeds, seaweed extract, coffee (Kona coffee), spices and yeast extract.
Find quick and easy recipes from our customers at this website!
Richardaloha.blogspot.jp